Cameron Esposito: Tell your rape jokes. Expect to... →
cameronesposito: Seems like every 6 months or so - maybe once a year - there is a debate about rape jokes. Here's how it goes: A dude tells jokes about rape or deals with hecklers in way that includes rape. A woman hears these jokes or is the heckler. She publicly states that she is upset or didn't like the joke…
Hello: We need to talk about the Friendzone →
yeti-detective: How is this even a thing? I'm a dude. I get it. Girls can be scary. They look just like humans, but they make Weird Things happen in your pants-area. It must be magic. They are the Gargamels to your dick's whatever-Smurf-your-dick-is. (Sidenote: the makers of The Smurfs meant for each Smurf to…
Racebending.com: Quoting myself because it's... →
moniquill: Where is it that your piece is set that there just aren't any POC there? I mean, I'm sure there are places like that. Wherever it is that white people fly to when they take white flight comes to mind. Maybe you're writing a story set in a gated community in the suburbs of Portland…
Everything Rhymes With Alcohol: technicolorcloset:... →
technicolorcloset: everythingrhymeswithalcohol: **TRIGGER WARNING: RAPE CULTURE** So, tonight I went to a screening of Evil Dead. One of the hosts was chud.com. The rep from the site is getting the audience pumped up for the movie and then says that it has "the second best rape… Sigh. Nick was my old editor when I wrote (briefly) for CHUD ten years ago. For a guy who's clearly...
Fucking fuckers
me: (out shopping, looking all fly with my Marvel comics tote bag featuring several characters)
dude: nice bag.
me: thanks. (keeps on shopping)
dude: do you even know who all those characters are?
me: uh... yeah?
dude: ok then, who's that guy? (points at a character on the bag)
me:
me: wait, are you asking me to prove that I'm enough of a fan enough to carry this bag?
dude: (smirks) that's what I thought. He's called the Silver Surfer. I bet you don't even know his real name.
me: does it matter? (starts to edge away before I start punching throats)
dude: psh, you're not a real fan.
me:
me: (slowly unsheathing my Wolverine claws)
me: how many pairs of chromosomes do humans contain in their cells?
dude: uh... what?
me: explain the function of cellular mitosis?
dude:
me: what is the purpose of myelin sheath with regards to the formation of new neural pathways?
dude: what are you even talking about?
me: oh, well it seemed that you were implying that if I don't know as much about the Marvel universe as you do, then I can't possibly be considered a real fan. This is me implying that because you don't know as much about the human body as I do, you can't possibly be considered a real human being.
dude:
dude:
dude:
dude: Um, I... wow. You're right. Have a nice day. (starts to shuffle away)
me: his name is Norrin Radd.
dude: (looks extremely embarrassed)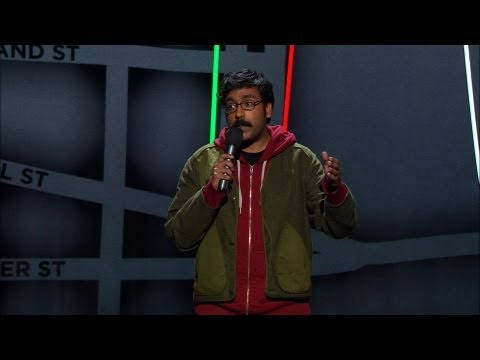 Clifford Unchained: The Problem with Sequels →
dudehugespeaks: Here's the problem with video game sequels, as opposed to linear/film ones. In a game, the users are used to the cadence of the experience. However airtight each game mechanic is. They are, quite literally, learning a new "language" with each new game that they've never laid their hands on…
CC Studios: Eff This Video - It's Raining Spiders... →
cc-studios: If there's one thing everyone can agree on, it's that we all love cute-ass videos. Well, almost all of us. Welcome to Eff This Video, the column where Liz Shannon Miller explains to you why your favorite videos are some bullshit. OKAY. Before I even click play on this bitch, let me…
"Subscribers may choose not to receive promotional or marketing telephone calls..."
– I would not advise calling that number: the experience is not pleasant. I have yet to make it successfully through to the end of the process, to no-call Nirvana. And if I ever do, they'll just start calling me again after 11 months anyway. Basically, never give Cablevision your phone number, because...
Michl Hartny.: I Just Wrote This To DC Comics →
michaelhartney: Hi, DC! My name's Michael Hartney. I'm as big a Superman fan as you'll ever meet. I have bought Superman comics every Wednesday since I learned to read, which was nearly 30 years ago. Superman was the subject of my blog and my one-man show. My name is tattooed on my arm in Kryptonian, for Zod's…
This is so babies: Why Does Plagiarism In... →
mattbors: Editorial cartoonist Bill Day hit his fundraising goal on the crowd funding site Indiegogo this week: $35,000 to keep drawing editorial cartoons for a year. Day is syndicated through Cagle and, like the rest of us, can't make a full time living with the rates we are paid. Since he…
Lessig Blog, v2: Prosecutor as bully →
lessig: (Some will say this is not the time. I disagree. This is the time when every mixed emotion needs to find voice.) Since his arrest in January, 2011, I have known more about the events that began this spiral than I have wanted to know. Aaron consulted me as a friend and lawyer. He…
Harassment in nerd spaces, and encouraging honesty →
Everyone who attends cons of any sort needs to read this. Period.
just shut up.
gyzym: First, a story.  So, my first semester of my freshman year of college, I took this Intro to Women's Studies class. The class met for five hours a week, one two hour session and one three hour session, and the breakdown of students was what I eventually discovered to be the typical sampling in any Women's Studies class with no pre-recs at my mid-sized, southern Ohio state school. There...
Games Reporter Matt Hughes Passes Away In Apparent...
Read the whole thing. Depression sucks, people. kotakucom: By Jason Schreier Matt Hughes, a freelancer who wrote about gaming for outlets like GamesRadar, Joystiq, and Mac|Life, passed away Tuesday in Commerce, Michigan. Read More
Where's the disclosure: Nine of WSJ's op-ed...
alexandraerin: mediamattersforamerica: In several instances, WSJ hasn't disclosed that nine of their op-ed writers — who attack Obama and promote Romney on a regular basis — are also Romney advisers. The List: JOHN BOLTON MAX BOOT LEE E. CASEY DAVID B. RIVKIN JR. PAULA DOBRIANSKY  MARY ANN GLENDON GLENN HUBBARD PAUL E. PETERSON  MARTIN WEST Why, this outrageous lie is clearly the...
DC Women Kicking Ass: This is what it's like to be... →
dcwomenkickingass: A few days ago an asshole using the Twitter ID @MisterE2009 started making attacks on a bunch of male and female creators and fans. A sample of the abuse which can be seen at Bleeding Cool (as the guy has now deleted the Twitter page). Soon people figured out that he also had another Twitter ID,…
nerdpromnomnom: Fringe panel out-of-context quotes →
nerdpromnomnom: Jasika Nicole: At first I said, I can get killed off in my first show, there will be other shows, it's no big deal. And I made it to the fifth season! *** Anna Torv: Her greatest lesson, I think it's to come … I think its to come, it … (Joshua Jackson starts to lose his shit, the audience…
The Final Word on Why Marvel Movies > DC Movies
DC: Joss Whedon, we cannot make your Wonder Woman movie because there's too much ancient mythology, you set it in World War II, and you are just some TV guy. Also, you know, she's a chick.
~~~
Marvel: HEY EVERYBODY, WE'RE GOING TO MAKE A THOR MOVIE! AND THERE'S GOING TO BE FROST GIANTS AND SWORDS AND MAGIC AND A RAINBOW BRIDGE AND EVERYTHING!
Marvel: AND WE'RE GOING TO MAKE A CAPTAIN AMERICA MOVIE! AND THERE'S GOING TO BE NAZIS AND NEWSREELS AND A WORLD'S FAIR AND OLD TIMEY CARS AND EVERYTHING!
Marvel: AND WE'RE GOING TO MAKE AN AVENGERS MOVIE! HEY DO YOU WANT TO DIRECT THE AVENGERS, JOSS WHEDON??
Joss Whedon: Can I make Black Widow the most badass of the team and also add Maria Hill played by the actress I wanted to play Wonder Woman?
Marvel: TOTES!
The Avengers: *makes $1.5 billion*
~~~
DC: … So we'll make Superman gritty like Batman. The kids like Batman, right?
Cookies for Breakfast: So a Girl Walks into a... →
breakfastcookie: This is something that happened to a friend of mine in her own words. "So, on Friday night my friend and I were at her house and wanted to get out and do something for the evening. We brainstormed ideas and she brought up the idea of seeing a show at the Laugh Factory. I'd never been, I thought… Folks, Tosh is a racist and sexist asshole. Period. The fact that I'm...
Watch
The problems with Catwoman's costume. So damned true. (ETA: Forgot to say this is a video posted by Courtney Stanton over at SuperOpinionated, of course.)
"The iPhone is not and never was a phone. It is a pocket-sized computer that..."
– John Gruber, looking back on five years of the iPhone. (via parislemon)
Abandoned Walmart reclaimed as Library →
gwynraven-livejournal-com: Awesome!
Minor change
Am contemplating actually starting to use Tumblr for realz. As a result, I've turned off the IFTTT feed of my Facebook and Twitter updates. You're welcome.
3 tags
Enter to win a Circulon Symmetry 11-Piece Gourmet... →
http://bit.ly/QY35er
2 tags
A Survival Guide for the Right in Leftist Academia →
I love it when conservatives compare their lives to the black experience in America. Doesn't reek of hyperbole at all.
2 tags
On "Booth Babes" « « Mitu Khandaker Mitu... →
RT @auntiepixelante: "they've created it, they are the rulers of it. the games industry was never designed with fem …
2 tags
The Day After Its $1.2B Purchase By Microsoft,... →
So, yeah. #Yammer is down, much to the chagrin of #ltl12 attendees.
3 tags
Boston.com to launch a radio station - The Names... →
http://shar.es/sA1En
3 tags
Ustream.Tv →
http://bit.ly/MDBFd3
3 tags
Google Groups →
http://bit.ly/LH16ZP